Posted on 29. Apr, 2010 by Chris in Farming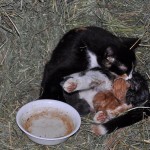 Its official!
Our very fat, supposed-to-be male cat had 5 kittens last night.  We are stunned, and so is the family we got him from.  None of us have ever seen this happen before … so far no media outlets have agreed to pay for pictures or for that matter even returned my calls. 
The kids discovered the kittens during chores.  They were sure one was dead because it was not moving and was not part of the litter.  When I picked it up we realized it was still alive.  Sandra took the kitten inside, warmed him up and it is now back with its mother.  So, it looks like we have five miraculous kittens.
Does anyone want one?