Posted on 23. Apr, 2010 by Chris in Earthship, Farming, Gardening
With all the work on the house the gardening is falling behind …
I've been putting off harvesting the compost from the worm bins for too long.  This morning I took the time to sort the worms out of two finished trays of compost.  It looks like I've been feeding them well …  the compost was full of worms!  It took quite a while to sort them out of the trays and I still have two trays left to go.  The finished compost looks good; very dark and I'm guessing I separated about 40 litres  of compost for the garden this morning.   Due to all the chicken egg shells that go into our compost there is a lot of shell in the compost, but I figure that is good for the soil as the shells will break down over time.  I made no effort to separate worm egg sacs out of the finished compost.  My hope is that the baby worms will hatch in the garden and keep doing their thing in the garden soil.  We'll see how it goes anyway.  Helen's teacher wants to start a worm composter in their class! I've saved a small portable bin for next week and hopefully I'll separate the worms and finished compost in their class and leave them a pound of worms.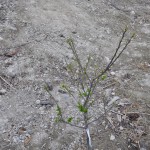 The fruit tree we planted last year survived the winter!  It has started to bud … we will not be pruning it this year!  This tree is watered by gray water from the barn and the system seems to be working.  The new fruit tree that Sandra and the kids got for my birthday is also starting to bud so I hope to get it planted in the ground soon …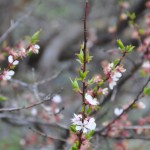 The apple trees (and lone apricot tree) below the office are blossoming!  I've only ever seen apricots on the apricot tree once before … maybe with a warm spring we will get some apricots.  Last year I pruned the apple trees and this year I see that there are many new shoots that should be pruned back.
I fixed up the cold frame on the south side of the shop a few weeks ago; added soil and repaired the cover.  I foolishly moved my tomato and pepper plants into the frame right away.  Over the last couple of weeks I have watched over half of them shrivel and die from the frost … a knife to the heart each time!  The days are not warm enough for the frame to make enough of a difference.  The survivors are a sorry looking bunch!  It is getting kind of personal so I hope they survive …