Posted on 29. May, 2010 by Chris in Earthship, Front Wall, roof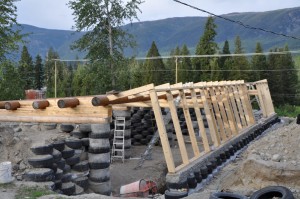 We have had a busy couple of weeks!
Our internet connection has been up and down over the last week … so I have been unable to post and have been slow responding to messages. My apologies!  We have had storms and heavy winds, which always seem to affect our internet provider.
Over the may 24th long week-end we had a return visitor!  James helped us out last summer and was curious to see where we were at.  Not ones to pass up an opportunity we had James help us with the front wall framing.  After he left I carried on and started installing rafters.  As you can see from the gap in the wall there is still a bit of work to do.  Thanks for all of the help James!  If I am not mistaken you left your ear muffs behind.  I will send them back with Thomas the next time he drops by.
Our framing is not standard.  Normally you would use 2×6 to frame a wall like this, but we wanted a heavier look and opted for 3×8  instead.  The framing (studs and green house rafters) is on 4′ centres or less depending on window size.  Before we started we checked with a local window manufacturer and they said there was no standard glass size as far as they were concerned.  Just tell them what we want and they would produce it.  Consequently we did not worry about framing to standard window spacings as recommended in Earthship Volume I.
I should also mention that I have not done a lot of framing work.  This is probably the largest framing job that I have ever done and I am reasonably pleased with the results (although we did struggle with a 'small' curve in the wall.  It almost looks like the curve was planned to optimize the sun striking the front wall.  What am I saying … it was planned!).
There really was not much standard about this framing job.  Because of the posts coming down in our front wall we had to frame around them.  We did the framing in sections around the posts.  Otherwise, I imagine you could frame the entire front wall on the ground and simply stand it up and square and plumb it.
The rest of my week has been spent anchoring rafters (the large 12″ diameter logs that have already been placed) and filling in around these logs.  With all of the rain we have had to hold off on sand blasting and staining.  Hopefully we can get the rest of the rafters in place this week.