Posted on 30. Jun, 2010 by Chris in Earthship, Electrical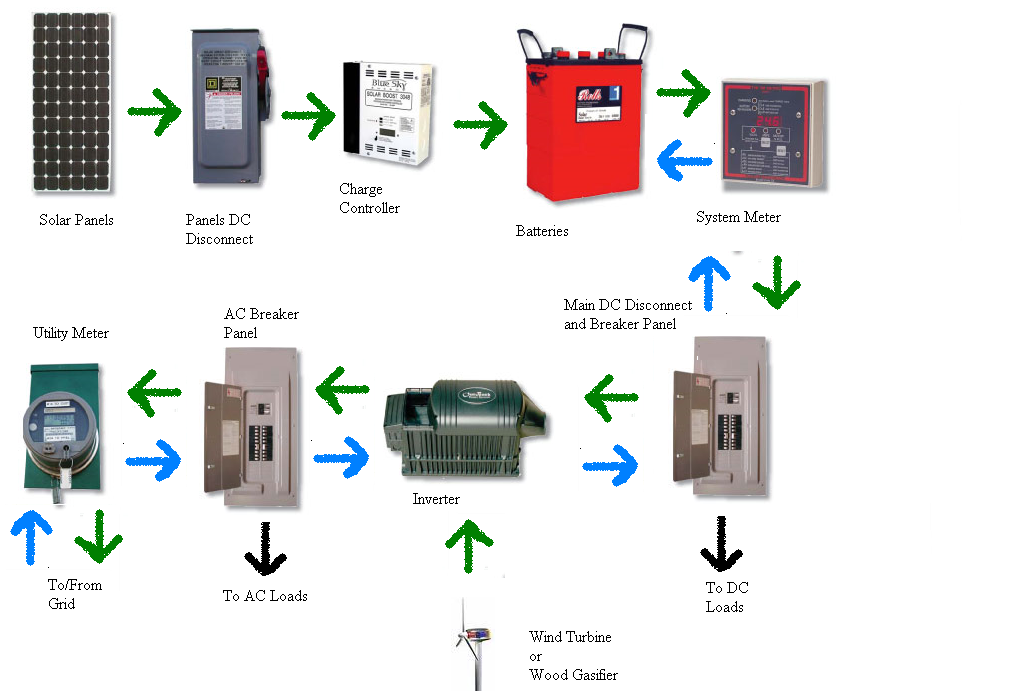 I have been struggling with what the electrical layout will look like for this building.
In very basic terms the above diagram sketches out the components of our proposed electrical system.   Our intention is to generate our own electricity and sell any excess daily power back to BC Hydro.  Hopefully, on an annual basis we will produce more power than we consume.  BC Hydro does not offer any real incentive to produce your own electricity, the payback period on any system installed today is ridiculously long.  However, Ontario now offers enough of an incentive to make such a system feasible, and I expect other provincial power authorities to follow suite as rates are inevitably increased.  I view this as a philosophical decision.  Centralized power distribution came about due to cheap and abundant energy, a resource constrained future will not support this energy infrastructure down the road.  Besides, I would love to see my electric meter spin backwards!
I imagine that a lot of what I sketched above will change when we get to applying for our electrical permit and implementing our electrical plan.  For now this sketch allowed me to generate the branch circuit layout below (also as a PDF Newton-electrical).
Here again I suspect this layout will change, but it does give me what I need to layout enough rough-in wiring to get the roof  of the building finished!
Having finally done this exercise it is hard to feel that you can build sustainably given current code requirements.  The electrical code requires a lot of circuits (multiple plug circuits for the kitchen counters for example) that seem excessive when you are trying to reduce your footprint.  This kitchen plug-in requirement avoids having the power fail when you use the microwave to melt butter while you are beating eggs, but perhaps we should be evaluating the need to melt butter AND beat eggs at the same time.
Also, our decision to use DC lights means an increase in the number of circuits in the house.  The simple reason for this is that low voltage DC lights and appliances draw more amperage, and thus are limited to the number of them that can be on one shared circuit.  The reduced power consumption of these lights and appliances should more than compensate for the increased wiring.
At any rate I can now do the wiring necessary to carry on with the roof …