Posted on 12. Jul, 2010 by Chris in Construction, Earthship, roof, sky lights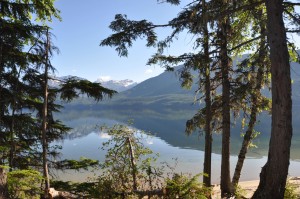 Wow … the summer is progressing quickly!
We went kayaking at Clearwater Lake after the July 1st weekend. (That top picture is a view from one of the camp sites.)
The garden is thriving and we've had our first salads from it.  The kids' market lambs are getting bigger.   We've added chicken eggs to the turkey eggs in the incubator (over half way there).
We are having a coyote problem … eight of our chickens have disappeared.  We finally figured it was coyotes when Katie saw one strolling into our yard.  Josie has been chasing the coyotes at night but she tends to sleep during the day … lazy, old dog!  A few nights ago found me perched in the hayloft of the barn with our rifle (a .22 that Stephen is learning to shoot) wondering just what I would do if I actually saw a coyote!  Situations I never thought I would be in …  For now we have raised the fence on the chicken coop so the chickens cannot fly out and we are not letting them range until the coyotes have moved on.
Of course most of our time is spent on the roof of the house.  We have well over half of the decking done now, and we can see the end in sight!  Laying the decking has been slow and steady work.  After planing the wood, we stain it with a clear gloss and then install it.  We've recovered the wood from rejected timbers and house logs from different log building projects; it is amazing how well the wood cleans up.  Some of the wood is challenging to work with (old wood does not stay straight!), but we are very pleased with the end result.
Other than decking the roof we have been installing the sky light boxes.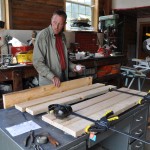 We did not have any 2×12 so we decided to make our own by laminating short pieces of 2×6 decking.
This was an excellent choice as the boxes now look like a continuation of the decked roof.
We then applied a wood preservative to the exterior faces and stained the boxes.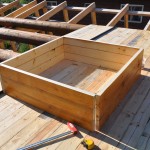 When it is time to install a skylight we assemble the box pieces on the roof …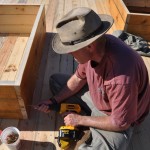 And screw them all together.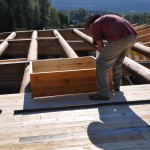 Then the assembled box gets slid into place and squared.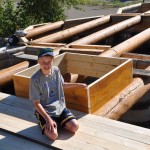 The last step is to toe nail the box in place.
After, we just keep decking around the installed box.
Thanks to Jeremiah who commented on the electrical layout I posted.  I incorporated your comments into the rough wiring, but have not had enough time to update the drawing yet…