Posted on 29. Nov, 2010 by Chris in Energy Solutions, rocket mass heater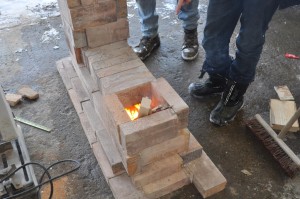 Too Cool!
We test fired the unmortared core of a rocket mass stove today … and it worked!  If you look closely at the above picture you will notice that the flames are being pulled sideways into the fire tube.  We have lift off!
I  suppose I should rewind and start at the beginning of the week …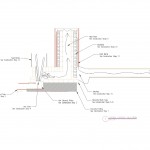 I've spent a good chunk of the week laying out what our stove will look like.  These stoves aim for very high energy efficiency in burning the wood, and storage of all the heat generated instead of letting it escape up the flue.  The goal is only carbon dioxide and water vapour exiting its chimney, all the other gases are burned and converted to heat.  This contrasts with many commercial stoves that are sold today that are inefficient;  gases leave the flue unburned, and a lot of the heat that is generated is also lost up the flue.
The core of a rocket mass heater is a 'J' shaped combustion chamber that burns very hot (upwards of 2000 degrees Fahrenheit), meaning its efficient.  The long end of the J is actually a short chimney, or heat riser, that acts to push the combustion gases down the inside of  the barrel containing it, and then out along a horizontal heat exchange pipe.  This horizontal pipe is embedded in a mass (usually a cob bench) that is warmed by the hot gases in the pipe.  This mass heating is similar to the operation of a masonry stove.  A well designed rocket mass heater typically has mostly water and carbon dioxide exiting its flue at relatively low temperatures (100-200 degrees Fahrenheit).  A recent set of my construction details can be found here.
We also started trying to track down materials for our rocket mass heater; fire brick, a barrel for the heat riser, refractory mortar and perlite.  Sandra phoned around and finally tracked down fire bricks in Vernon (about a 2.5 hour drive) for $2.38 per brick.  This seemed reasonable, so we started looking for 55 gallon barrels.  We went to a used building supply place in Kamloops at the beginning  of the week and found used barrels in good condition for $25.00.  As we were leaving I asked the owner if he ever came across fire brick.  It just so happened that one of his crews was demolishing an old boiler and yes there was fire brick!  Thursday afternoon, in the middle of a snow storm, found me and my brother-in-law Tom loading 200 used (in good condition) fire bricks into the back of his pickup truck from the demolition site in Kamloops.   I paid forty cents a brick!  Well worth the effort … thanks Tom!  Refractory mortar (mortar that can withstand high temperature) was harder to track down.  We finally found some at Inland Building Supplies in Kamloops.  Perlite is used for insulation and is the same stuff used in your garden.  Most garden centres carry it, but we would still like to find somebody who stocks it in bulk as it is very expensive in small quantities.  With these items in hand we were ready to start this project!
I laid out the test build of the rocket in the shop.  With the doors open we get excellent ventilation in the shop so it seemed safe enough.  The bricks are remarkably clean … I did scrape old mortar off of some of them to get good, flat surfaces.  I was able to cut the bricks using a cut off grinder.  I used the grinder outside and I wore a mask.  Cutting bricks is messy, fortunately I only needed to cut a total of two.
I put news paper and kindling into the short end of the 'J' and lit the paper.  The fire took right away and started drafting sideways immediately … I did not have to do anything.  I was pleased!  Based on the test assembly I plan to remove one brick from the top of the horizontal feed tube and shorten the lower layers appropriately.
Here are the materials that we've tracked down so far and our test build ….