Posted on 02. Dec, 2010 by Chris in Earthship, Energy Solutions, rocket mass heater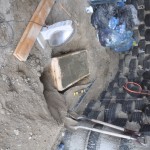 We poured the footing for the rocket mass heater!.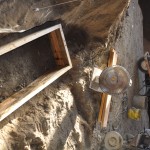 We dug the footing down so that its top is level with the unfinished floor of our building.  The finished floor will be 4-6 inches higher than the top of this footing.  This should mean that the top of the heat riser barrel is about three and a half feet above finished floor level … at a decent height for tending a tea kettle!
The footing was formed with scrap 2×6 lumber.  I used this material simply because we have lots of it … due to the fact that this concrete is 'light' and it is a pretty small footing I could have used just about anything.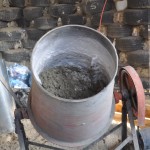 We poured a 440 psi perlite aggregate/portland cement footing.  This is the first time I've used perlite to make concrete, and it was very weird … the mixed concrete was ridiculously light!  The idea behind this footing is that it is insulated … the core of the stove will not lose significant heat to the ground beneath it.   By not losing heat in the core we hope to keep our combustion chamber hotter, and (hopefully) more efficient; there will be more of a push behind the hot gasses as they travel through the heat exchange pipe, and we will burn up most of the combustible gas.  We needed about 3.5 cubic feet of concrete, so we used 4 cubic feet of perlite aggregate and 1 sac (88 lbs) of portland cement.  Details on using perlite as an aggregate in concrete can be found at http://www.perlite.org/product_guides/12%20lightweight%20insulating%20concrete.pdf, and below is a chart from that pdf that we used to formulate our concrete.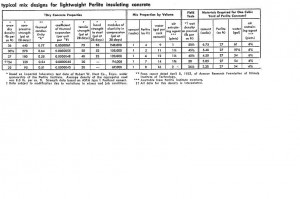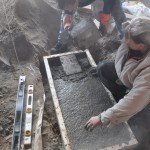 The picture attached to this paragraph shows the footing mid-way through the concrete pour.  After we had poured about 2-3″ of concrete we placed a framed box flush to the top of the footing at the feed end of the stove.  This box will form the ash clean out underneath the feed tube.  The 'box' will be stripped out with the rest of the form work.  We oiled all of the wood used in this form so we did not have any sticking issues pulling the form away from the concrete.
We will wait a couple of days and then strip the form off of the concrete.  This concrete cures slowly due to the perlite, so we are taking our time with the next step … starting to place the fire bricks!