Posted on 28. May, 2011 by Chris in Earthship, Gardening, roof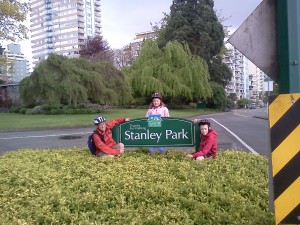 It seems like only yesterday we were finishing the rocket stove in January … and now it is almost June!
As you might have guessed from the above picture we were in Vancouver for four days a week ago.  We visited the aquarium and managed to go cycling around Stanley Park.  Thank you Tom and Stephanie for putting us up for the weekend we had a great time!  Katie spent the week on a school canoeing trip on the ocean so I think she had lots of fun too.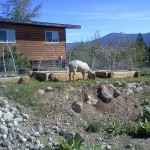 Spring means we have been spending more time outside and I have been obsessing over cutting the grass in front of the house … it was starting to look pretty bad.  I never seemed to have time to get around to it until finally I came up with the perfect solution.  The sheep are incredibly happy and I have never had a more relaxing time cutting the grass  … best of all no fossil fuels! Unfortunately, one of the lawn mowers managed to eat a few pea plants … nothing is perfect.  The sheep actually do an amazing job … after two days the yard was close to looking like it had been mowed.
Sandra picked up the flashing for the front of the house when she took Katie down to Vancouver for her trip.  She also picked up a boot and storm collar for the air intake of the stove.  This afternoon the kids and I got around to installing it, and hopefully we will move onto the flashing over the next week.
I have been using the earthship as a greenhouse this spring and it has been working out really well.   Helen, Stephen and I started lots of transplants earlier in the spring; tomatoes, peppers, herbs, cucumbers … They have all done really well, and we started moving them out to the garden this week.  I hope to get a lemon tree this spring and keep it in the earthship.  I will probably keep the peppers in the earthship all summer as I have never had good luck with peppers in the garden.
We trimmed the apple and apricot trees earlier in the spring and they all blossomed nicely … hopefully they will do well this year as well.