Posted on 04. Jun, 2011 by Chris in Construction, Earthship, Plans, roof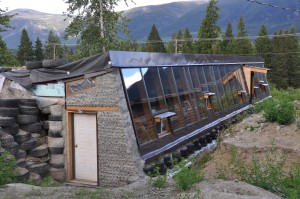 We FINALLY got around to installing flashing along the south edge of the roof.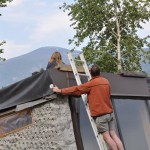 I've been worrying about the roof membrane coming off in a heavy wind storm for almost a year … since we installed it last summer.  The trim anchors the membrane along its south edge and does not permit the wind to 'get under' and lift the membrane off of the roof deck; wind would eventually work the adhesive used to adhere the rubber to the insulation loose.  Every heavy wind storm over the last year has been causing me some anxiety!
We custom ordered the tin to a profile that I specified to fit the roofline.  We used 24 gauge sheet metal, the thickest we have ever used.  I was worried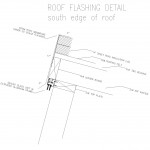 about the flashing flexing in a heavy wind storm as it can only be screwed into the 3×8 along the front of the building, it cannot be anchored for the last 8″ as it would not grab into the roof insulation.  Having installed it I am happy with the result.
The 24 gauge sheet metal was difficult to work with … very hard to drill.  I quickly settled on hammering the screw into the metal to punch a pilot hole, this made it fairly easy to drill.
As you can see from the pictures I still have the sides to flash, but I am going to sleep much better tonight.