Posted on 13. Feb, 2012 by Chris in Energy Solutions, WVO vehicle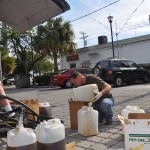 It has been about three months since we have completed the WVO conversion, and an educated guess would say that we have gone about 10,000 km on WVO since then.  Most of this mileage (8000km) was done on our cross country trip, so the vast majority of it is highway miles.
We did not have a lot of time to learn the quirks of running on WVO before we left for our trip, so we had some interesting experiences and a few tense moments between driver and navigator as a result!  All-in-all  our experience was positive; we did almost half the trip on WVO, and we had no mechanical problems with the van.  We found it harder to source WVO in the second half of the trip as we (mostly Sandra) had not planned this far ahead as we did not know exactly where we would be.  Many times we missed picking up WVO simply because it was difficult to keep in touch with people on the road and to line our route up with people's schedules.
Our single largest WVO problem started fairly early in the trip and plagued us for the rest of it.  We found that when stopped and idling or slowing down on the highway (allowing the engine to drop below 1000 RPM) we would stall.  The van did not always stall when idling … it only happened after the van had been running for a while and usually after being on the highway for some time.  The first couple of times this happened imagine our surprise and consternation … traffic and stalling are not a good mix!  We were able to avoid this issue by only switching to WVO on the highway … this was very easy to do on a cross country road trip and meant that while in cities or on secondary roads we stayed on diesel.
I worked on this problem on the trip and was able to improve the situation (we no longer stalled when slowing down), but was not completely able to eliminate the stalling when idling issue.  During the trip I assumed we were dealing with fuel starvation … not enough WVO was making it to the injection pump so that over time the engine was being starved of fuel.  This did not really explain why the stalling was itermittent and seemed to happen only when the engine was idling.
My first step in trouble shooting this problem was to double check and tighten all of the WVO hoses and connections.  Most of the hose clamps needed to be tightened (not a surprise given the expansion/contraction caused by the hot/cold cycling of an engine).  This had no noticable effect on the problem.
I then switched from a non- looped to a looped return, assuming that the WVO was too viscous to be pumped fast enough … again this had no effect.
I changed the WVO filter at about 4500 km, guessing that the filter was plugged.  This did not make a noticable improvement and as far as I could tell the filter was quite clean.
I bumped the engine idle speed up to 800 RPMs (the recommended idle speed for a Delica diesel engine) from the approximately 600 RPMs it had been idling at.  Increasing the idle speed helped … the van no longer stalled when slowing down, only when sitting at an idle.  I did not increase the idle speed beyond 800 RPM as I did not want to have a high idle on diesel … assuming this would use more diesel.
I was not able to do too much more on the road as it was difficult to work on the van; not enough tools, and a motel parking lot is  not an ideal place to work!  Towards the very end of the trip (last couple of days of driving) we did notice our stalling issue get worse; it did not seem to matter if we were idling or not, and it was fairly obvious the van was not getting enough fuel on WVO.
When I got home I drove the van into the shop and the next day I got underneath it and looked around.  I found two locations where the fuel line leading to the injection pump had collapsed on itself, restricting the flow of WVO and explaining our most recent problem.  Both restrictions occurred where the line curved to change directions.  I did not think these bends were significant enough to do this, but obviously the combination of suction from the pump and the bend had collapsed the line.   This leads me to wonder if I got the best fuel hose for a diesel … a thicker, stronger wall would help prevent this problem.  Regardless, I re-routed and fixed the collapsed sections … I also switched back to a non-looped return.
I also decided to clean the injectors while I had it in the shop.  I had noticed more black smoke towards the end of the trip when starting and during quick accelerations … from what I had read fouled injectors (injector coking?) can contribute to this problem.  (WARNING: there are little parts in the injectors … do this work over a clean workbench unless you want to be searching a dirty shop floor for these tiny parts … maybe I should just clean the shop floor?)  From a visual inspection two of the fuel injectors were clean and two were fouled; I disassembled and cleaned all of the injectors (the Australian Delica website has an excellent PDF on doing this).
Happily, the van ran much  better after this tune up; less smoke, better sound and no idle issue on WVO!  Unhappily, after about another 500 km's running on WVO the stalling on idle issue was back … this was not a happy moment.  I put the van back in the shop expecting to find another collapsed hose … only there wasn't one.  So, I pulled and cleaned the injectors again … one of the injectors did look fouled, the balance looked fine.  I have gone from thinking that I had a fuel starvation issue to thinking that the WVO may not always be hot enough going into the injection pump.  This initially surprised me as I have a heated filter and an in-line heater right before the pump.  However, the heater is switched to shut off by a thermal sensor (attached to one of the injector feed lines) that shuts the heater off when the oil is hot enough.  When I think about my stalling problem it seems to occur at cooler outside temperatures (below freezing temperature) after the van has been running for a while (hot engine, hot coolant).  I am now wondering if the sensor is shutting the heater off too much in colder weather?  Causing fouled injectors and leading to the stalling problems?
Not sure if I have correctly identified the problem, but again after cleaning the injectors the van is running fine on WVO … no stalling at idle.  I have also disconnected the thermal sensor to see if this helps … we will see if I have solved this problem in another 500 km!
I was prepared to install an in-line fuel pump beside the WVO tank to push the oil to the injector pump (already purchased), but I have not done this yet as I am not convinced this is my problem.