Posted on 13. Apr, 2012 by Sandra in Earthship
I've been questioning a lot of things about Facebook lately, but I'll admit it's responsible for me finding a wonderful little store on Main Street in Vancouver called The Soap Dispensary.
Jenny and Grant from The Clean Bin Project posted it on their Facebook page and from there I made my way all the way to Vancouver to check it out!
This wonderful little store provides bulk soaps of all kinds–shampoo, conditioner, laundry, dish, dishwasher, you name it — in refillable containers. Best of all, the soaps and cleaners are either all natural or contain such miniscule amounts of so-called toxins that it guarantees you will slash your overall use of them.  The BEST is the refillable containers.  There's a choice of plastic or glass so even if you choose plastic, you can be a champion "re-user" and feel great about doing it.
I had been looking for a service like this for some time as I've been eyeing all the plastic shampoo and conditioner bottles are family sends to the recycling bin each year.  Every time we emptied a container I felt guilty putting it in our blue bin.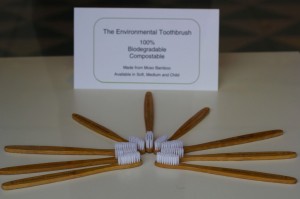 I happened to be heading down to Vancouver on March 9th for my Auntie Lynn's 75th birthday party so on the morning of the 10th Katie and I parked the veggie van in a parking spot right in front of the store and went in.
Linh, the owner, had been expecting me. I had posted on her FB page that I was headed down, so when we walked in the door I introduced myself and Katie and I had a little look around.  Although it is a very small store, the back wall is a set of storage cubes filled with very large containers of bulk soaps and cleaners.
There are lots of other things you'd expect at a store like this: tooth soap (yes, not paste, natural tooth soap!), soap nuts (the kind you put in your washing machine; it grows on trees!), plastic free cleaning tools and other pretty cool products that all stay true to the store's mandate of low toxins, re-useability and high quality performance.
I had really wanted to start with shampoo and conditioner and Linh talked a little about their store brand that is manufactured locally.  Although not 100% natural she explained to me that the product contains only 0.1% cosmetic grade preservative.  Linh carries another line of shampoo and conditioner by Carina, a North Vancouver-based company and their line of hair cleaning products is 100% toxin free.  The preservative in this line of products is derived from pine sap.
I wanted to be sure I was going to be happy with the products.  I don't mind putting my money where my mouth is, but I need to be happy with the results.  I was really very curious whether these toxin-free (or nearly so) products would leave my hair behaving.  Katie and I both suffer from are blessed with very thick hair; in my case very curly thick hair.  I have often purchased "green" products only to find that my hair is left alternately greasy, tangled or electric-generation dry.  When I explained this to Linh, she recommended trying the more expensive, but slightly thicker conditioner by Carina.
So I decided to purchase 500mL (2 cups) of store brand shampoo and the same amount of Carina brand conditioner.  Each bottle cost about $10 each and I purchased a pumper for each of them. I also decided to try some soap nuts.  I had been curious ever since I first heard of them when reading an article about Mark Boyle.  The Soap Dispensary was the first place I'd seen them since reading that Mark Boyle gathered them for his own laundry.
I am pleased to report that the shampoo and conditioner were fabulous. My hair felt the same as always.  I could see us running through this pretty quickly so I had a good conversation with the family about using only as much as they needed and no more!  Although Linh does ship, I don't want to increase my carbon footprint by having the product mailed and put on a truck. I have been toying with the idea of asking my friend James if he'd like to make the 10km trip each way on his bicycle to pick up 2-two litre containers of the shampoo and conditioner.  James is the fellow who worked on our house with us last summer, and he and his wife, Asami, play poker with my brother, Tom.  And Tom and my sister-in-law, Stephanie, travel to the interior fairly regularly.
Otherwise it will have to wait until my next veggie trip to the coast.
I haven't tried out the soap nuts yet, but now that the van engine has been resolved (see previous posts) I'm going to give it a whirl.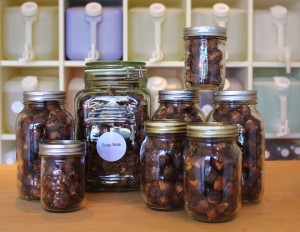 Oh, Linh's store also hosts workshops…I've seen notices about soap-making and natural care products for babies.
Go check them out!  They're located at 3623 Main Street, Vancouver BC. Phone is  604.568.3141  Hours are posted on the site, www.thesoapdispensary.com
I really hope you do. If we all support great ideas like this, these services will be around to keep helping us reach our green ideals.
P.S. I asked Linh if she would mind me listing ingredients for the two products I purchased.  Here they are:
Shampoo
• Purified distilled water
• Aloe vera
• Herbal blend of lavender, burdock root, horsetail plant, sage, nettle
• Herbal extracts of Chinese ginseng, rosehip, white camellia
• Decyl Glucoside – cleanser made from coconut for sensitive skin and baby products
• Coco Glucoside – natural vegetarian surfactant from Corn, Potato, Wheat Coconut Oil
• Vegetable glycerine
• Hemp seed oil
• Panthenol
• Whole wheat protein
• Citric acid
• Optiphen Plus (Phenoxyethanol, Caprylyl Glycol, Sorbic Acid) (this is the preservative)
DAILY LIGHT CONDITIONER ~ For Normal Hair
Aqua, Cocos nucifera (coconut) oil, Pinus divaricata (pine) extract, Pinus banksiana (pine) extract, Chamomilla recutita (matricaria) flower extract, Blechnum spicant (fern) leaf extract, Urtica dioca (nettle) leaf extract, Taraxacum officinale (dandelion) leaf extract, Trifolium pretense (clover) flower extract, Acetic Acid, Olea europaea (olive) fruit oil, Curcurbita pepo (pumpkin) seed oil, Beeswax, Lathyrus odoratus (sweet pea) flower extract.