Posted on 25. Dec, 2012 by Sandra in Community, Earthship
We've just spent our first night as a family in the earthship a few nights ago. It has been a crazy, exhausting eight months as we made our final push to get moved in.
We aren't finished yet; far from it. But we have all the amenities to keep ourselves warm and comfortable while we find the time to re-group and keep going.
What does not finished mean? Well, we have all our electrical finished. However, we've installed used and basic fixtures. We will, over time, find light fixtures that hang down below the beams. The lights we have now don't completely clear our wonderful 12" round beams and because of this, they cast some shadows. Although we have all our DC wiring in place and have a sub panel for these circuits, we are currently running everything on AC power.
We have been asked why we aren't off-grid yet. This is simple. We are building without a mortgage and some systems cost more than we can afford right now. Also, we are only a few metres from the grid so trying to accomplish our goal of moving in was a lot easier by tying to the grid for the time being. The third reason we haven't gone off-grid yet is we are still not sure what that will mean for us. We certainly will have some solar but it's clear to us that we can't depend on this over the winter. Our valley gets very little sunlight in December and January. Wind is also undependable. Chris is halfway through building a gasifier. With a gasifier we could generate power and even contribute heat to the earthship. But like everything these past 8 months, we've been focused on getting moved in. I've been asked if we're worried that we will never get to "off-grid". No, I'm not. I used to get asked if I was worried we'd never move in. The process and potential degree of our future "off grid-ness" is a work in progress, just like building the structure of the earthship was, and is.
Our walls do not have a finish plaster on them. If you've been looking at pictures on our FB page, you will see that they are still clay-coloured. This is a job we wanted to take a bit of time on. We did finish our floors and while this is kind of backwards (it's better to do floors last) we felt we needed to have finished floors to move in to limit the dirt we tracked around. The walls will be a project for the warmer months of spring.
Our kitchen is not complete, either. Because our cupboards in the Nutshell were built as modules, we simply tore them out and brought them over. They are functional but not pretty. We have designed the kitchen to have more cupboards which don't exist yet, and the U housing the kitchen is meant to be divided with a pantry at the back. This wall is absent at the moment.
The kids are sleeping in the big U, without dividing walls. Again, this was a job that we felt we could put off until after we moved in. They are fairly delighted to have so much more room that I think we can safely schedule their walls about mid-way down our to-do list!
Only one bathroom is functional and that one barely so. We just pulled a door out of the Nutshell and built a frame for it. Until now when we need to use the lav, we announced ourselves and everyone moved from the living room to the kitchen. It was quite funny, but not funny enough apparently that we could let that job go unfinished for long.
Our utility room is still not divided. The front half is destined as a library/seating area. I suspect this will be one of our last projects.
As of a few days ago, our plumbing permit has been cleared. There will be a notation that one bathroom has been roughed in enough to satisfy the permit, while the other one is complete. The rocket stove permit (Solid Fuel Burning) has been passed. This is the site built stove project for which Chris, as the engineer, submitted stamped drawings.
The building permit has not passed. In the new year we will have the inspector back to provide us with a complete list of outstanding items. We know this list includes: protecting the insulation and poly on the inside front wall, finishing some exterior faces (I believe we are going to have to replace the small poly covered window openings on the east and west ends). These windows will be stained glass and we were hoping to make these ourselves as a family project. I don't think the building jurisdiction considers the exposed tires on the east and west entrances as "finished" although I may argue they are and I may argue the double insulated pop can wall on the exterior is also finished. It's not that we won't do something to them; we are trying to limit the work we have to do during winter to clear the permit. Our radiant floor heating system is also not connected. I believe this will be required to pass the permit.
A few thoughts about the permit process on our earthship as much is discussed about this on our FB page and on other Facebook pages that are dedicated to earthships. As an engineer Chris is obligated to adhere to ethical and professional standards so building without a permit was never an option. That doesn't mean that we don't think that current building code practices are outdated for alternative green building…but I think-and here I speak entirely for myself- that one can follow the rules and still not agree with them. It teaches the builder, the building jurisdiction and others, the reasons we have codes and the reasons we need to change them faster.
Has having a permit process in place slowed us down? Only partially. We were building slowly so having to wait for inspections didn't hamper our speed. In some ways having a permit had the potential to slow us down, and in fact, it did in a minor way. There were things we had to do to we may not have wanted to do that cost us time. In the very beginning we were told we had to have a septic system, even though we didn't intend to use one. This would have cost us $15,000 and certainly slowed us down. We were lucky here as our other option was to have a septic installer certify our very old current system. We also spent a few weeks documenting precedent in other jurisdictions about burying electrical wire in cob…that did slow us down, but in the end it saved us $1500 as the electrical inspector originally wanted us to put the wire in conduit everywhere on the walls. In fairness, he was excellent and was open to being convinced of proven methods in jurisdictions on Vancouver Island, where several of our friends/fellow alternative builders supplied us with information and pictures and contact information to supply to ours. I personally was delighted with this process…if only every alternative building issue could be resolved as seamlessly…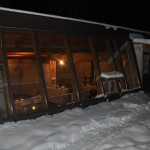 I keep telling people that we are the first known fully permitted earthship in B.C. Chris is always hesitant to say so, but certainly until recently I believe we were the only one as well. Our interaction with our building department was fairly low key, as Chris was already known to them through our work designing log homes. There are now a few other earthships being built in BC under permits and I think these earthships will be higher profile within their building jurisdictions than we were, and it is our hope that great strides will be made in the comfort level of those upholding code requrement through future builds in the province of BC. I would have loved to have been the flagship earthship in BC that changed the way jurisdictions viewed these wonderful homes, but I believe others will carry that torch. I look forward to watching it and contributing our experiences if needed.
For us, though, the plan in the new year is to complete the work necessary to clear the final permit. After that we will prioritize finishing work to make our earthship a really beautiful, finished home. We will also begin to look at systems to take us off-grid. In the meantime, we are going to spend Christmas sleeping a lot, skiing a bit, and spending some fun times with our children and extended families.
We haven't spent much time blogging in the last few months. Facebook has been easier and more in line with our time constraints.  There are over 900 pictures of our earthship construction at The Darfield Earthship page.  In the new year we will be re-designing this website to better reflect our life AFTER earthship building. Although we will continue to post about the finishing projects, we will also be branching out in other directions as we move from Earthship builders to Earthship dwellers.