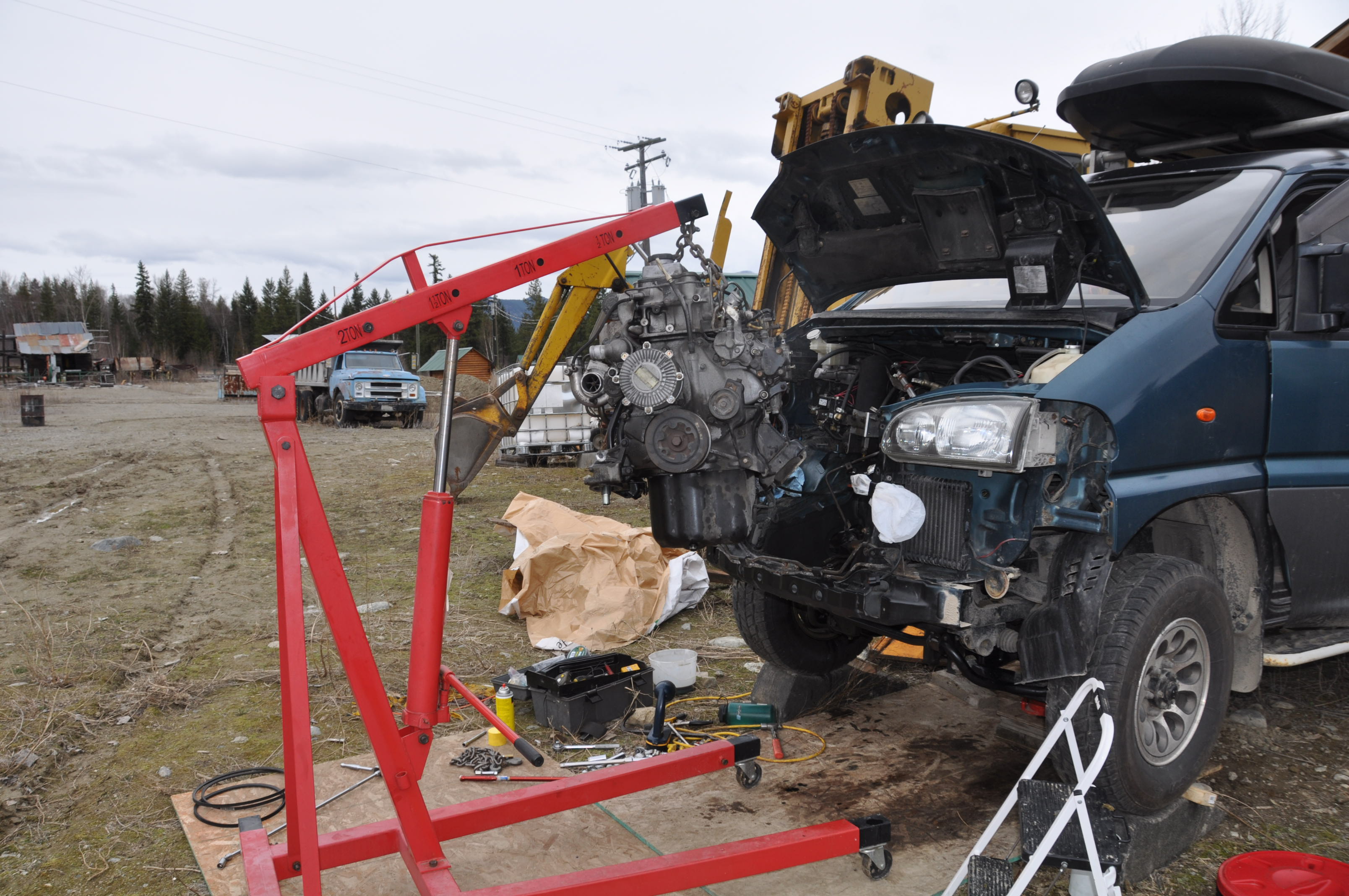 Actually started to dismantle the engine today.
I recorded all of these steps as I was doing the work … I want something that tells me where everything goes back.Started by pulling following items out of the engine bay:
Battery,
intercooler with hoses and clamps,
air filter with hose and clamp,
Took following off of front of van:
bull board (3 17 mm bolts underneath, 4 12 mm bolts on front covered by plastic boots)
front turn signal light units (one screw at top),
front trim (radiator grill) with mitsubishi symbol in centre (uses plastic fasteners,  5 broken fasteners … most already broken)
Wheel well splash shields … did not completely remove … just enough to drop it out of way of work area (2 screws and lots of two piece plastic fasteners … some broken)
under cover panels (only one plastic connecter to frame of van … lots of plastic connecters that also fasten bumper and splash shield)
front bumper (all bolts … the bolts at both ends (x4) were totally rusted … all 4 broken coming off) (left all fasteners for splash shields, panels and bumper in one of panels)
Drained the radiator.
March 30th …Carried on with pulling items off the front of the engine compartment this morning.  Pulled the following:
radiator – remember to re-attach transmission fluid lines and check level,
air conditioning fan unit (five bolts, two electrical connections) (need glue to re-attach some of the foam that has come loose),
front support T (frame) … took it off in two pieces so could work upper part around fasteners for headlights … tight fit.
checked air conditioning system for pressure … no pressure … no surprise … we have not had air conditioning since purchasing van this fall … was going to look at it before summer … imagine I will be looking at it fairly soon …
air conditioning condensor … wrapped lines to prevent moisture
Started pulling accessories off of engine:
removed fan from engine.  Blue dot should be visible when re-installing.
removed alternator, back bolt hard to get at, had to remove belts, inside belt needed tensioner loosened…installs right above fuel filter…replaced bolts in housing.  Loosened tensioner and removed two belts from pulley
removed 2-bolt exhaust manifold from underneath (detached bracket attaching exhaust to transmission case … need to make sure I re-attach it) (Do not lose gasket for this manifold!)
unwound alternator electrical line from engine  and marked electrical connections A-H
Disconnected air compressor electrical line (Labelled it I)
Disconnected two hoses attached to power steering pump … did not pull pump as it is bolted to engine face … not belt driven as shown in shop manual … twisted hose coming out of side of power steering reservoir to get it out of the way
pulled air conditioner pump from bottom right side of engine, removed two hoses before pulling it, loosened tensioner and removed single belt from pulley, wrapped lines
Removed two throttle lines from injection pump … loosened and moved screws closest to engine … red line goes on outside edge
Pulled hose and fitting attached to top of Injector pump … guess line is a vacuum line and labelled it as such
removed fuel in/out lines from injector pump, labelled front and back due to relative positions
disconnected heat sensor from injector line (for WVO)
Removed 3/4″ coolant lines coming off upper tee of back passenger side of engine … left tee fitting in engine.
March 31st:
Continued pulling items off of the engine:
removed 2 bolts attaching transmission dipstick to engine … did not remove dipstick from transmission … do I need to?
Stopped to pull windshield wiper assembly from top of engine compartment … should have done this long time ago …
Removed cap and bolt holding each wiper (passenger side wiper sits below driver side wiper on window) and removed wiper arms,
disconnected electrical to wiper motor … had to cut after market line (red) … will need to solder this line later.
pulled weather strip and popped moulding loose that sits above bay,
Removed 5 bolts holding motor assembly to top of bay and 3 bolts holding each end of assembly (underneath wiper arms) (11 bolts total)
Removed wiper motor assembly … very difficult … the passenger side end should be fed in first on re-installation.
Back to pulling items from engine compartment:
Removed coolant line from lower fitting at back passenger side of engine (coolant line has two red or orange circles on it)
disconnected line to pump on front face of engine (above idler for air compressor pump) … not sure what this pump is … steel line tons around side of engine and bolts on …. disconnected one smaller line that feeds off from this line separately (vacuum?)
Detached two electrical lines to starter … starter is tucked underneath injection pump
removed observation plate to access torque converter bolts … 4 10 mm bolts … akward … no rubber spacer?
removed 6 bolts from torque converter
Removed 13 bolts between transmission and engine; 2 longest bolts hold starter in place , next two longest bolts go in the top two positions,  total of 13 bolts, bracket goes in bolt location closest to exhaust (bracket supports exhaust)
Removed 4 motor mount bolts total (14 mm) – tricky to get at … had to use long extension with buckle to get back passenger bolt
Attached chain to two lifting points on engine and lifted out of van
Only item left attached was block heater electrical cord … detached it.
April 3rd:
Degreased replacement engine,
Installed frost plug block heater in replacement engine,
Replacement engine is either for a '95 or because it was for a standard transmission did not have overdrive sensor … swapped engine fitting (including overdrive sensor) from old engine,
April 4th:
Replaced fuel filter while engine was out of the way,
hoisted engine back into engine bay; removed oil filter and drain pan plug for better clearance through front of van,
Lined engine back up with transmission … being careful of sensors below engine on front axle,
bolted engine mounts back onto van frame (x4 bolts … left loose for now),
Bolted transmission to engine … started with two bolts w/ alignment liners … threaded all bolts into transmission and left loose,
put starter back in place (very difficult to feed started down beside mounted engine … would have been better to have starter loosely in place when engine was slid into place) … loosely bolted starter in place,
Snugged all bolts  connecting engine to transmission to required torque (in alternating pattern),
Snugged motor mount bolts to required torque,
bolted torque converter to engine flywheel (in clockwise orientation to avoid damaging engine timing chain) … went back and tightened to required torque (again going clockwise)
Reattached exhaust to engine (2 bolt manifold … remembered to put gasket back in)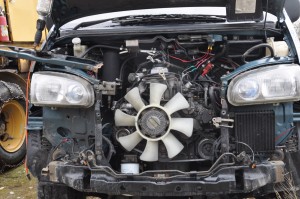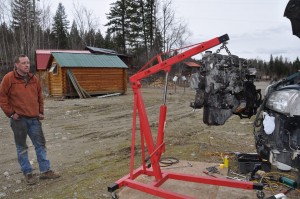 April 5
Started working backwards.  A 12mm racketing wrench would be good  Remember to make sure air conditioning  connections seat.  We had to pry on end in to seat it before the bolt would close up.  Air conditioning unit tight fit but easier than putting the starter back.