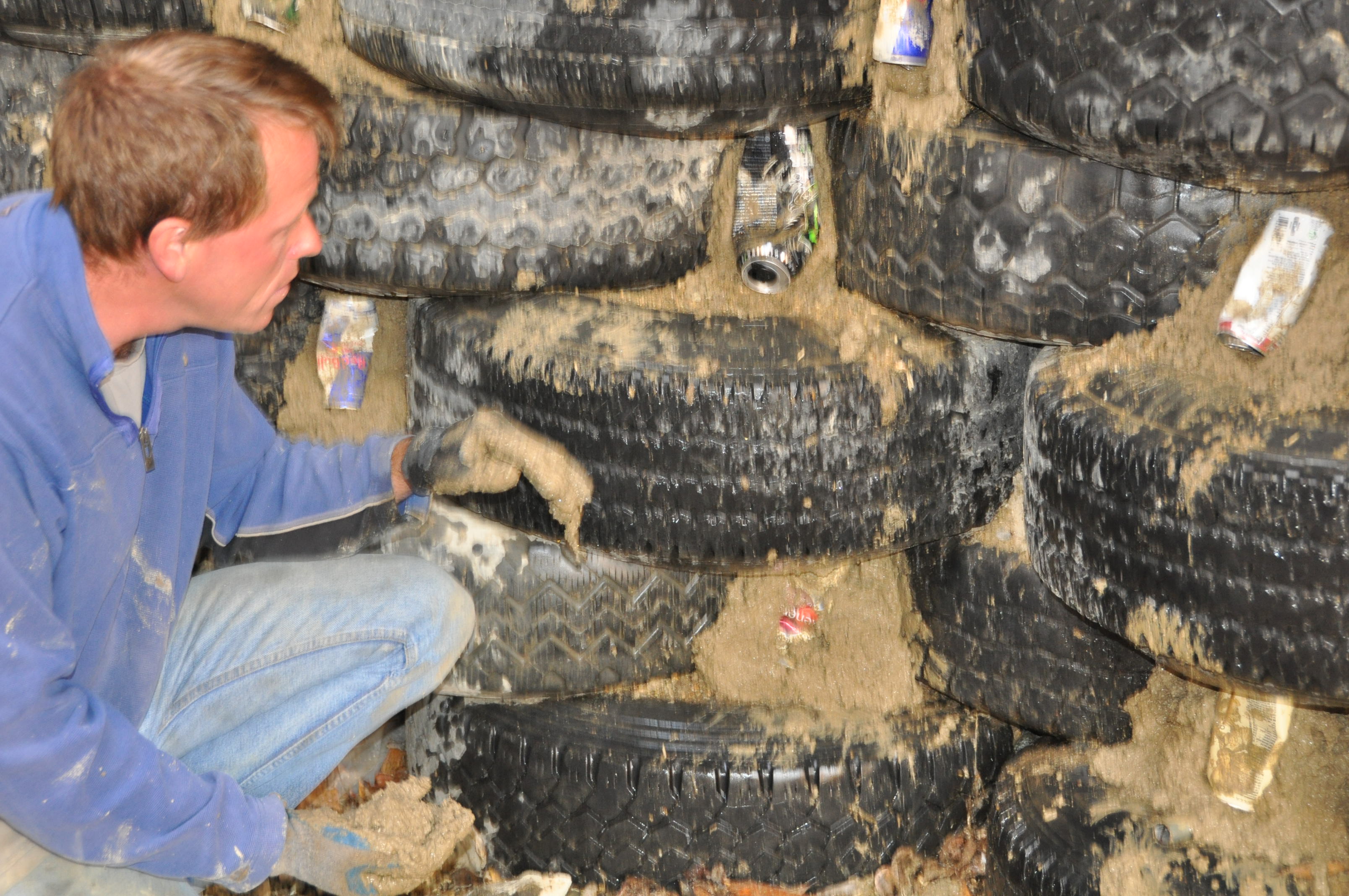 With the roof mostly done, we have started thinking about finishing the greenhouse wall.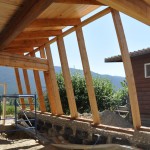 The tire work, bond beam, and basic framing for this wall is already done.  So at the beginning of the week we started to size and order the 1″ insulated, double pane glass units.  We identified two companies in Kamloops that supply sealed glass units, and  we also started framing the support blocks for the glass.We did not get very far though before concerns about the front face glazing as specified in the Earthship volumes stopped us in our tracks.  I have spent a fair amount of internet time researching earthship construction projects, and the glazing  (a fancy way to say glass) seems to be a fairly common problem spot.  As described by one owner/builder,
WARNING: Michael Reynolds' mullion design for slanted glass panes (external window 'clamp' metal), as presented in "Earthship" Vol. 1, not only leads to leaks into the house but will continually require maintenance, do nothing to alleviate condensation drips, AND they're ugly.
The possible concerns seems to be twofold; the potential for leaks on the exterior face, and the potential for moisture condensing on the inside face to run down into the wooden framing and the plaster covering the tires.  In all fairness, I have also read people's posts stating that they do not have issues with water condensation, or that it occurs but it is not a very big deal.  The Earthship volumes do specify using a redwood for this framing (like cedar), which is very rot resistant and handles moisture well.  However, we did not use cedar (we used spruce/pine as this was available to us), and all things being equal we would like to avoid rot and moisture stains on the wood and the front face plaster if we can.
Our solution for this concern seems to be to install an extruded aluminum glazing system onto our 3×8 front face stud wall.  These glazing systems simplify the exterior flashing work, and provide interior gutters to catch condensation drips before they reach the wood framing.  This convenience comes at a price and it looks like the materials for our job will be in the neighborhood of $3500.00 dollars (I am still evaluating potential suppliers).  We plan to install this package ourselves.  This is not an expense we had planned on as the materials specified for this job in Earthship Volume I would probably cost around $500.00 dollars.  However, the cost is not huge, and in the long term we hope it wall pay off!
My bigger concern has been the delay this introduces into the building project.  I can be fairly linear when focused on a task, and I was all set to focus on front face framing OVER THE NEXT TWO WEEKS.  The earliest we can expect to get the glazing system is TWO WEEKS FROM ordering it and we still have not placed an order.  On top of that we will probably not place the glass order until we have installed this system and that means ANOTHER WEEK waiting for the glass.  This means that we will not have our front face exterior finished by end of September earliest, and more likely SOME TIME AT THE BEGINNING OF OCTOBER.  I am getting tense just writing about it … waiting was not part of the plan!

Fortunately, my common sense has come to the rescue.  We have lots of other things to do in the meantime and we can switch our focus to these things.  I just have to remember to take deep, calming breaths occasionally.  Strangely, my common sense looks and acts a lot like Sandra, and has been speaking to me in a loud, irritated voice lately when I talk about my original schedule.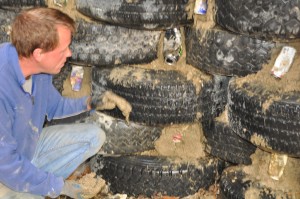 So! Other than thinking about the front face glazing we have started mudding the interior tire walls, framed the west exterior popcan wall, and continued working on the east exterior popcan wall.  Christie (a childhood friend of Sandra's) and her daughters (Sophie and Maya) helped us with the first packout of mud and cans between the tires in the living room … thanks guys!

We have had a fair bit of rain over the last couple of days and the good news is that there are no leaks in the roof (other than the unfinished skylights)!  The water drains really well off of the roof along the three canals that we placed at the back of the roof.  Unfortunately, the concentrated flow of water from the canals is causing some erosion at the back of the berm.  The canals simply stop at the edge of the berm as we have not installed cisterns, and we need to do something temporary to further direct this water.  We will probably do something before too long …