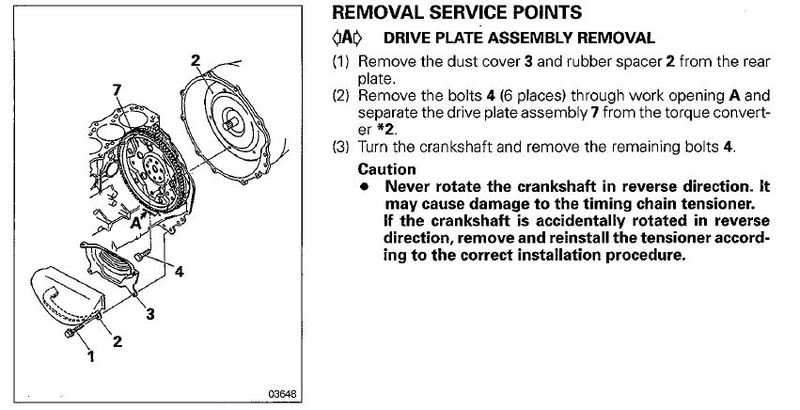 Spent the day on wednesday trying to figure out how to pull the engine.  This is pretty technical … I am recording it more so that I have a plan on how to proceed with pulling the engine out of the van than with the expectation that anybody will read this … unless you've seized your engine …
Regardless, this is what I came up with after a lot of looking.  The pictures are not mine … I referenced the sites they came from at the bottom of the post … I listed them here more for a general idea of what needs to happen:1. As components are being removed disconnect associated wiring.
tag wires with masking tape for re-attachment
 make sure wiring is tucked well back before moving engine
2. Remove items in engine compartment, including:
intercooler,
battery,
air filter,

wiper motor assembly (5 bolts) (remove windscreen mechanism from above engine … levers will unclip and leave a few bars ???)
3. Disassemble front of engine bay compartment.  This includes removing:
bullbar
bumper (mounting bolts behind park lights, remove lights to get at bolts?) (see 51-3 in Shop Manual)
AC fans and condenser (charge when re-assembled) (see 55-75)
grill (see 51-5)
14-16 radiator + support panel (disconnect auto transmission pipes in front of radiator)
Panels
???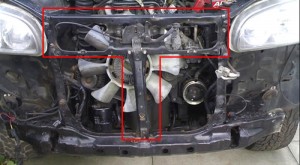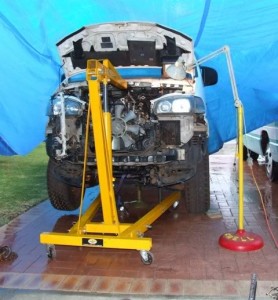 4. Strip accessories off of engine (can leave some in bay?)
starter
alternator (16-11)
AC compressor (bleed air conditioning first) (55-62)
turbo (see 11a-9-1)
inlet manifold (see 11a-11-1)
steering pump
Note: ok to leave turbo and injector pump on engine
5. unbolt/disconnect gearbox in place.
support gearbox as close as possible to existing position (easier to line up when refitting engine).
 There is an access panel that allows you to undo the bolts that connect the drive plate to the torque converter
remove inspection cover on bell housing (engine side)
remove bolts holding flex plate to converter (crank engine over by hand to get at all of them)
Note: you do not have to drop the gearbox to reach the two top bell housing bolts, you will however need 2 x 500 extension bars or a combination of sizes to make up an extension bar of approx 800mm OR easiest removal is from rear by leaving drive shafts etc set up and dropping rear auto mounts, that drops engine down so they are accessible, once un-done remount rear gearbox up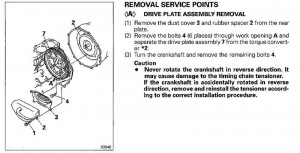 5a. Or instead of 5 remove engine, gearbox and front transfer box (one long 7′ section – no gearbox bolts to undo or drive shaft re-alignment)Pull engine out with a hoist
??? pull engine straight out without lifting until it is free of the gearbox, makes it easier to put engine back in as all you have to do is align the engine onto the engine mounts (gives the correct angle).
definitely unbolt the torque converter first, makes life a whole lot simpler, + no need for a new seal + no loss of TXM fluid
When removing engine, be careful of a front diff sensor that the bell housing will fall/lower and rest on, put something in to protect the sensor
6. Possible problems to look for after engine is pulled.
seized pistons,
broken turbo shaft,
broken timing chain
7. On re-assembly
Install an EGR Blanking plate between the EGR And the manifold in place of the gasket
References
http://www.mdocuk.co.uk/forums/viewtopic.php?t=20474&sid=c5d89213f0cd48266509f221e57ba5c8
http://delicaclub.com/viewtopic.php?t=16250&start=0&postdays=0&postorder=asc&highlight=&sid=cb73f756889290c02bfff72626c5a050
http://www.delicaclub.com/viewtopic.php?t=7650
http://www.youtube.com/watch?v=-elVpkkaFGY