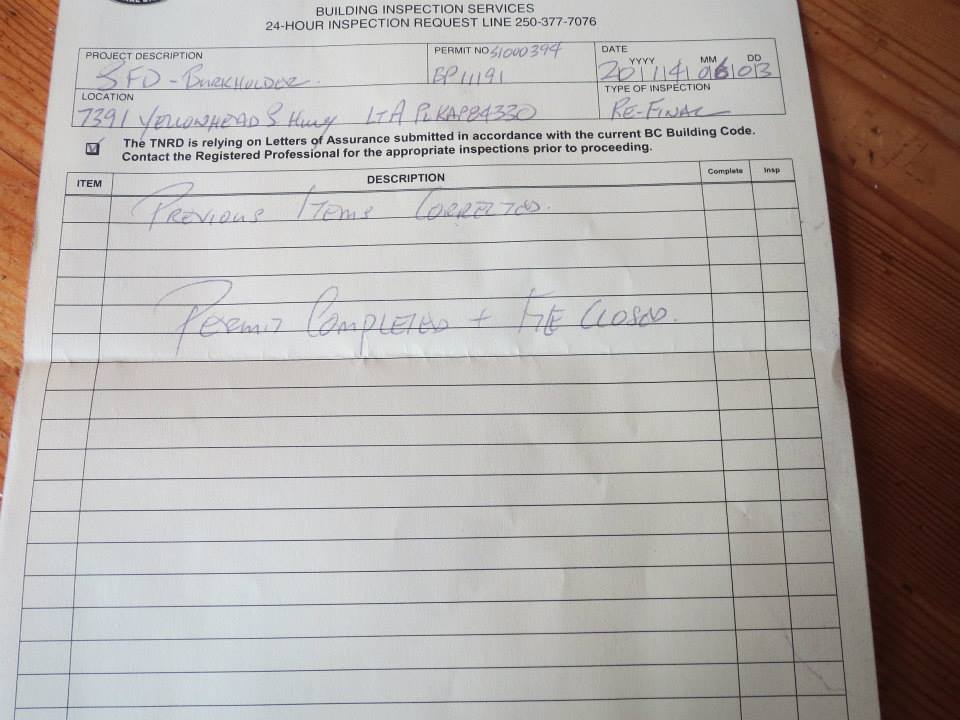 Although we didn't get much time to celebrate, Chris and I and the kids managed to complete outstanding permit jobs to close the permit about 10 days before our workshop started.  As we were gathering mulch, topsoil, and manure, we were putting in relentless days building, shoveling, plastering and generally ticking off the last 13 items from about 18 months ago when we moved in and had the inspector come by.
I am not embarrassed to say that I danced like a wild woman down the hallway as soon as the inspector's tail lights disappeared down the driveway.  What a relief!  I liken it to the feeling in 2005 when we paid off our small mortgage and became debt-free. Truly a weight removed.
Since receiving the paperwork, we've had little time to talk about next projects for the earthship.  Preparing for and actually taking part in the most awesome workshop so far in the history of our construction pretty much consumed us. For the last week we have been tidying up small jobs to do with the workshop, primarily designing a drip line irrigation system, gathering more mulch and cardboard for the pathways and doing all the little things we didn't have time for.
Last night, despite tentative plans to visit, we decided to stay home, set up the patio table and umbrella in the middle of our new yard and enjoyed a really nice dinner as a family complete with placemats, napkins and frosty drinks. Very civilized compared to our usual Newton rush.  We need to do more of that.
We are unclear where we are headed next.  We are setting time aside to mull things over and to talk about directions we may go in. I'm excited about a few possibilities that may be in our future…possibilities that may keep us closer to home and more engaged in our modern homesteading adventure!