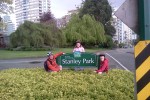 Posted by Chris in Earthship, Gardening, roof on 28. May, 2011 | 0 Comments
It seems like only yesterday we were finishing the rocket stove in January … and now it is almost June!
As you might have guessed from the above picture we were in Vancouver for four days a week ago.  We visited the aquarium and managed to go cycling around Stanley Park.  Thank you Tom and Stephanie … Read More →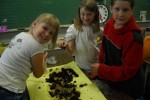 Posted by Chris in Community, Gardening on 03. May, 2010 | 2 Comments
What a morning!
Mrs Kerslake's grade 3 class (Helen's class) decided to setup a worm composter in their class room this spring.  I went in last week and supplied them with the worms to get started.
This was not a simple handover of worms however … we sorted worms from the finished compost of our bin, split … Read More →
Posted by Chris in Earthship, Farming, Gardening on 23. Apr, 2010 | 1 Comment
With all the work on the house the gardening is falling behind …
I've been putting off harvesting the compost from the worm bins for too long.  This morning I took the time to sort the worms out of two finished trays of compost.  It looks like I've been feeding them well …  the compost … Read More →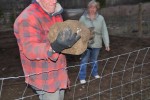 Posted by Sandra in Farming, Gardening on 16. Apr, 2010 | 0 Comments
Several weekends ago, Mike and Linda showed up with their tractor and rotatiller.  I had been making noises about trying to recover a small sheep pasture for extra garden space and since we were borrowing the John Deere from Mike and Linda to mount Schillings cement mixer, Mike brought along the tiller and spent an … Read More →
Posted by Chris in Gardening on 24. Mar, 2010 | 2 Comments
It has officially been spring for a couple of days, but around here it has not felt like winter for weeks. It is warm, mostly sunny, and weeds are starting to appear in the garden beds.
A couple of weeks ago I decided to start some seedlings.  I had been meaning to get started for a … Read More →
Posted by Chris in Gardening on 05. Aug, 2009 | 0 Comments
I've spent the last couple of months reading quite a bit … trying to make sense of the economy; the economic green shoots that are apparently springing up all around us, and the withered stocks that are dying before our eyes.
The cost of building and construction materials have sky rocketed over the past couple of … Read More →