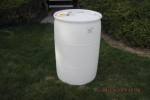 Posted by Sandra in Permaculture on 23. Jun, 2014 | 0 Comments
After learning how to make a compost tea brewer, I've been on the hunt for a large barrel…this jumped out at me on kajiji.  The fellow selling them had two for $20 each. What a score. We will use the second one for other projects.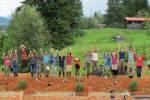 Posted by Sandra in Community, Earthship, Permaculture on 22. Jun, 2014 | 1 Comment
Our permablitz on Father's Day weekend was AWESOME!
It was the most fun we'd had with our earthship journey since the days of hosting volunteers in 2009 and 2010.  We had 23 workshop participants (and a handful of family and friends) join us for a two day install of our cold climate food production and edible … Read More →
Posted by Sandra in Earthship, Permaculture on 30. Apr, 2014 | 0 Comments
Bring your Dad to our permablitz at The Darfield Eartshhip on June 14-15, 2014, Father's Day weekend!
After nine months of planning we are getting closer and closer to our permabltiz. A month or so ago Javan Bernakevitch and Gord Heibert came up with the following initial design for several zones around the earthship.