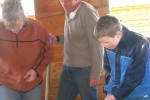 Posted by Chris in Farming, Sheep on 21. Mar, 2011 | 0 Comments
I had the opportunity to work on the ultimate floor today; radiant heat, about 8″ thick, and on top of all that the floor is soft and springy.
I am talking, of course, about the floor in our barn … this floor is amazing!  I guess I should say was amazing.  We cleaned out the barn … Read More →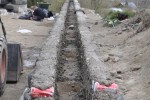 Posted by Sandra in Bond beam, Can walls, Construction, Earthship, Front Wall, Sheep on 18. Apr, 2010 | 2 Comments
Today we started laying pop cans for the second side of the bond beam form.  Last night we screened gravel and ran a string line.  This morning at 8:00 am we started and it went very fast! 
At 10:30 the sheep shearer (Phillip) showed up to shear or yearling ewes, Ginny, Zoom, Twirl-A-Girl and Whiskers.  Philip … Read More →