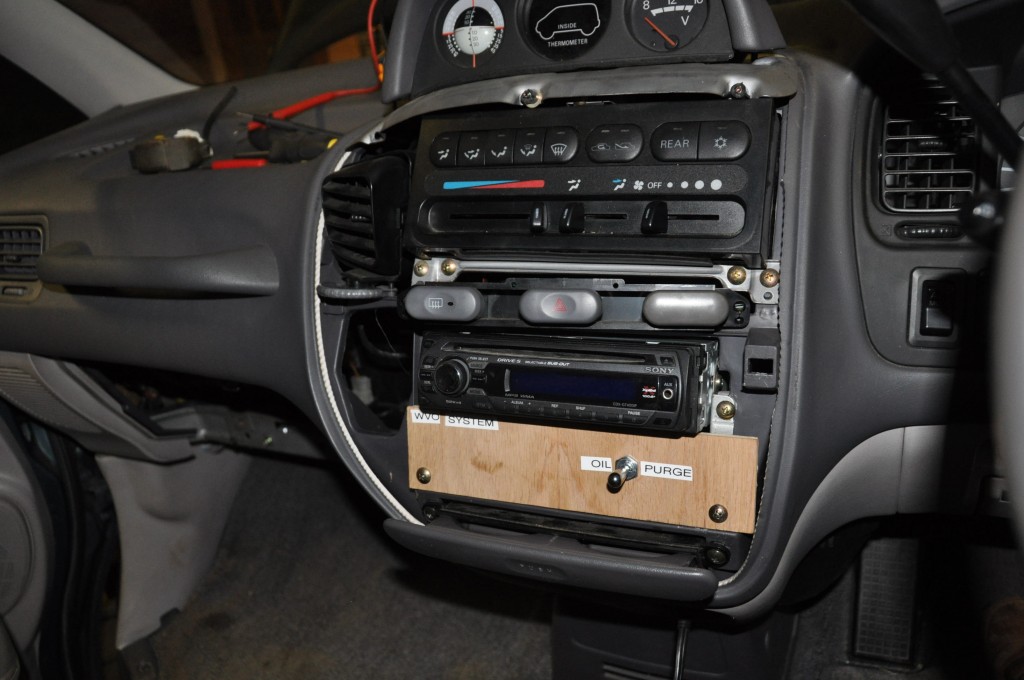 After weeks of work it was pretty anticlimactic … no flames, no loud woosh, no G-force.
On the way into Kamloops this morning (after the engine had warmed up) I flipped the switch labelled WVO (waste vegetable oil) on the dashboard to 'Oil' and … nothing happened.  I kept driving down the highway but Sandra and I kept glancing at one another.  Finally, I couldn't take it anymore, "Do you think its working?"  … Sandra's reply, "Don't know".  It was all I could do not to pull it off the road after 15 kilometres, pop the hood and check to see if the WVO valves were on.
I didn't pull over … we were running late.  Darfield and Little Fort (we live in Darfield) had a sixteen hour power outage starting yesterday at 3:00 pm (heavy winds … trees on the power lines).  We spent yesterday evening cold and dark, and got up at 3:30 am this morning to rescue Stephen's fish.  He has already lost a couple of fish and was very worried that the tank would get too cold.  By early morning it was very cold in the house so we did what we could to keep the tank warm.  I am somewhat embarrassed to say that we ended up moving the tank into the car and running it to save the fish … the fish are alive but I do not know what this says about environmental concerns in the face of adversity!  Regardless, I was not going to tell an agitated twelve year old boy to suck it up … life happens.  Of more concern, had it been a little colder outside it would have been more than the fish bailing in favour of fossil fuelled warmth.  Our pipes would have frozen and we would have been in a bit of trouble.  Makes finishing the earthsip in the new year that much more attractive!  It was a bit of a rush this morning when the power came back on to re-prime the water pump and cleanup.  Like I said, we were running late …
The good news is that the diesel gauge did not quiver or drop on our drive in this morning.  So, unless we've discovered cold fusion I think the WVO system is working.  We did not notice a significant difference in performance when on WVO; acceleration seemed fine and the engine was steady.  We also drove back on WVO so our total distance on WVO so far is about 180 kilometres.
I really do hope to document the conversion in more detail … hopefully over the next couple of weeks.
I am now thinking about an ECU (electronic control unit) for the WVO system. Initially, I will use it to control/monitor the WVO system (WVO fuel level, valve controls, temperature and pressure).
I am currently using a 3 position toggle to control the valves and in-line heater manually. I have installed a fuel sender in the tank but it is not yet hooked up to anything.
My intention is to use an Arduino controller as the ECU … thinking of hooking it up to an iPod or Android cellphone and use the phone's touch screen as the display and interface. I've also thought about interfacing to the OBD-II plug of the van but not sure how useful this information might be.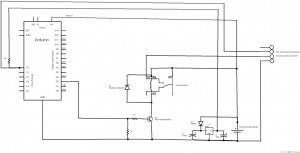 Regardless, my initial thoughts for an ECU are summed up in the attached diagram.  It is pretty rough; I have not confirmed parts and I have only shown one switched control output and the analog input to read the fuel sending unit.  But it is a start.  I have also hooked up the fuel sending unit to the Arduino and tested that portion of the circuit … it works. I am not sure how far I will get on this before we start our road trip … there is a lot to do.
I've now managed to use the words earthship, Arduino and WVO ALL in the same post … life is good!