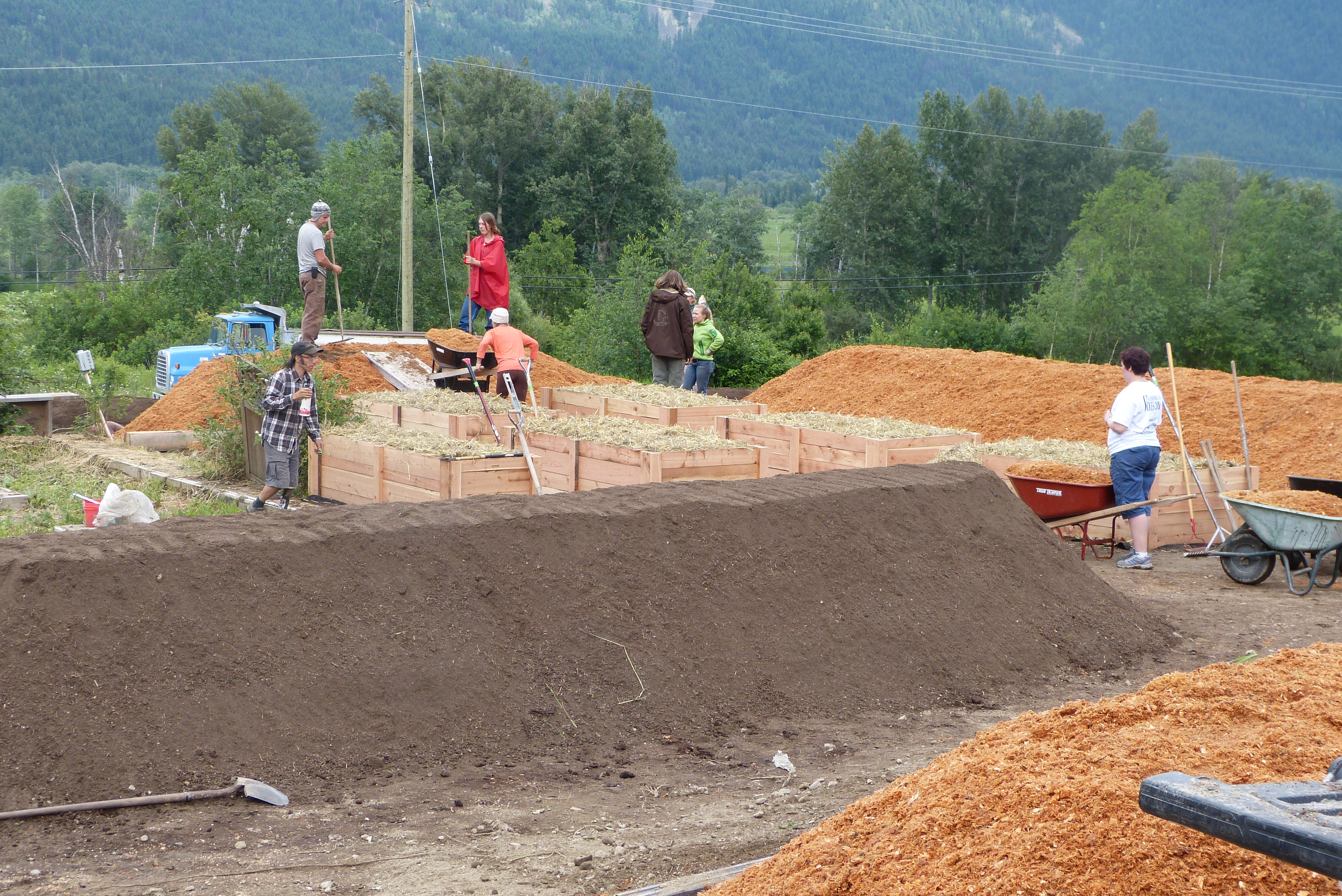 Our permablitz on Father's Day weekend was AWESOME!
It was the most fun we'd had with our earthship journey since the days of hosting volunteers in 2009 and 2010.  We had 23 workshop participants (and a handful of family and friends) join us for a two day install of our cold climate food production and edible landscape design.
We have been working with Javan Bernakevitch of Permaculture BC since last summer (we met Javan at O.U.R. Ecovillage in 2009 on Vancouver Island.  I just knew then that we'd be seeing him again!). Javan brought Gord Hiebert of Element Eco-Design on board in January 2014. We couldn't have been happier to be introduced to Gord, who, along with his wife, Jana, are located in Vernon, just a few hours from Darfield.
Here's the design that the two guys came up with and that we tweaked a bit for our site.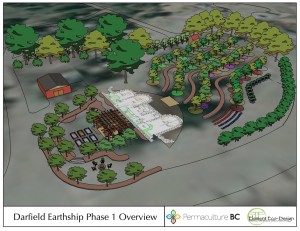 Last weekend we concentrated on the area just in front of the earthship!  Here are some pictures of the weekend!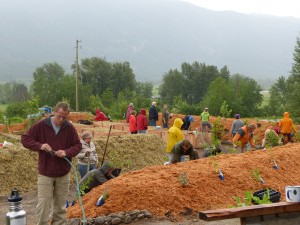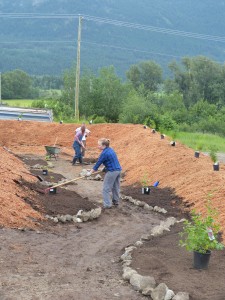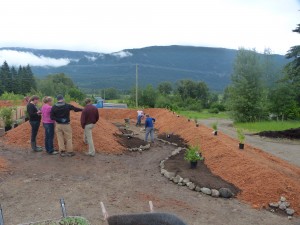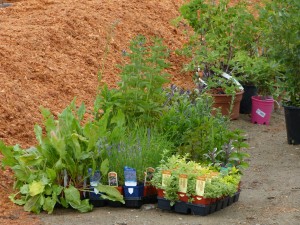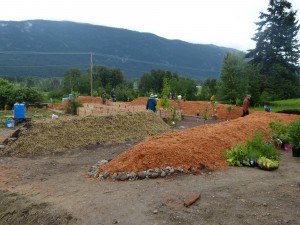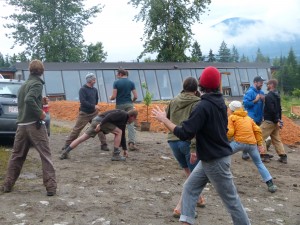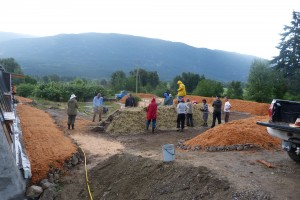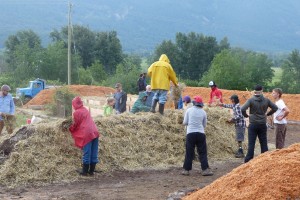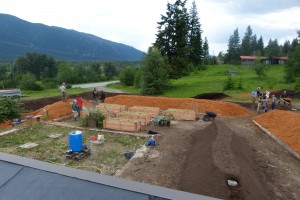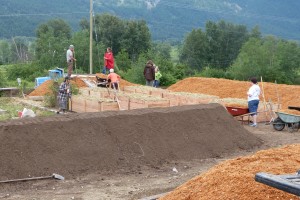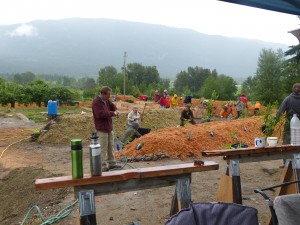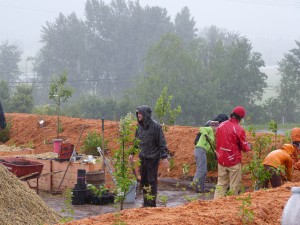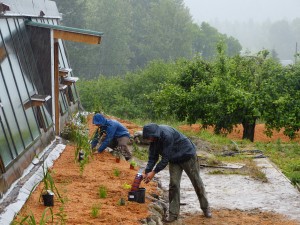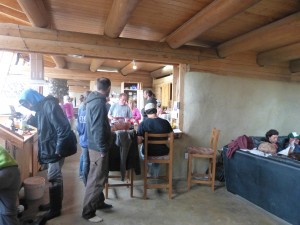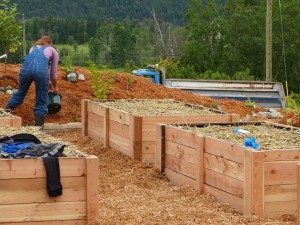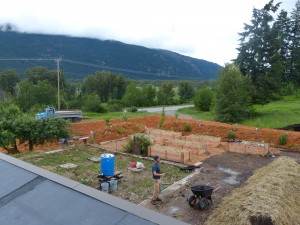 From March to June we concentrated on getting ready.  This involved gathering a lot of materials. We had fill on site (to build up the high beds) but didn't have a fast way to move it. Fortunately our friends Mike and Linda Casey graciously offered the use of their big dump truck. Our little tractor/backhoe was definitely not up to the task so we asked Alvin to help us out. Alvin has done most of excavation work over the last 10 years. Unfortunately Alvin decided that it was time to pass the reins to somebody younger, so we asked Dustin Rainer, our neighbour to help us with the earthworks part of the project.  Here's some pictures of him moving dirt around and generally making our front yard look spectacularly different!
Here's what it looked like before we started!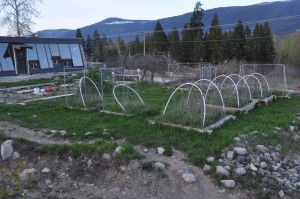 We didn't have any topsoil on site in the quantities or quality we needed, so we went to Mitchell's ranch and purchased 72 yards from them.  I also had to find horse manure. This was probably the most difficult thing I had to do. I could find a lot of it free but there was usually no way to load my own truck and the free manure was usually a few hours away from us, meaning very high trucking costs. At one point I thought I had some local, free manure lined up but the wet spring conspired against us and I was not able to get a truck into this farm's yard to load. In the end my manure purchase was last minute and with trucking cost me $950 for 12 yards. If I did this again I would definitely start earlier and find local free manure I could load myself and bring back in our pick up truck.
Other materials we needed for the permablitz included shavings (we had oodles of this from our log home operation), cardboard for laying down in the pathways under wood chips (keeps the weeds down), straw for the hugelkulture and raised garden beds, 6 pre-fabricated raised beds (built by us from Nutshell wood), a whiteboard, tons of wood for the bottom of the hugelkulture and in the bottom of the raised garden beds, plants (organized and purchased by us from a detailed list provided by Gord). Thanks to Art Knapps in Kamloops…they gave us a really great bulk discount and the plants look great!
We decided that because we were 15kms from either a cafe or grocery store, that we would include meals in the workshop price (which ranged from $242 or early bird registration and $300 for regular registration.
My friend Maureen (fellow journalism graduate from our Carleton U days) came out to cook and feed everyone.  She has lived in Canmore Alberta for the last three or four years and cooked for us during our plastering workshop in 2011. The food was amazing. Truly topped the experience to come in from working in the rain and have delicious meals in the earthship.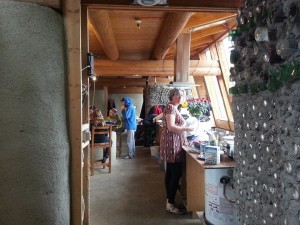 The weekend was a mix of hands-on and lecture type instruction (although lecture is pushing it as there was a lot of discussion during the sit down portions).  Here's the agenda for the weekend!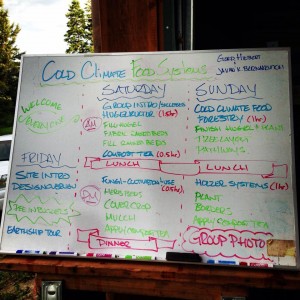 Many thanks to Javan Bernakevitch, Gord Hiebert, Jack Elliman, Sarah Clark, Shauna McGovern, Daniel Liedl, Renea Real,  Steve Richards, Patricia Spencer, Jim Summerhays and Amber Summerhays, Kristi Iverson, Karin Svec, Karin Wilds, Joanne Giffin, Nick Khattar, Kandice Mueller, Odin Lewis, Oli Martens, Ben Garratt, Steve Monk, Rob Mercereau, Lisa Sterritt, Zach Jones, Thomas Burkholder, Maureen Scott and Stephanie Lee.  Because pictures speak louder than words…more images from an awesome weekend!