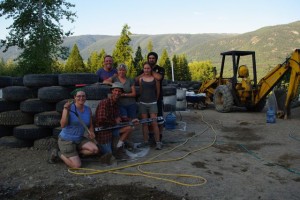 We are receiving more and more requests to visit our site and talk with us about our house.  Like all great sites, we've put together a FAQS page.  Listed below are the most frequently asked questions when people would like to visit.
Can I Visit?
We love to have visitors.  We do ask that you contact us before you visit so that we can arrange a time that works for everybody.  We are a busy family and are often away at 4H events or simply want some time alone as a family.  If the gate is up at our driveway, please respect our privacy as this means we are either not home, or we are home but would like some time to ourselves.  Obviously if you are family or friends, you may disregard the gate!!
Can I Volunteer ?
We love hosting volunteers even more than having visitors!   As with visiting we ask that you contact us before hand so that we can plan for your time with us.
We like to keep things simple … to this point we have not scheduled work parties or seminars for people interested in volunteering.  Just keeping the house construction moving along is a feat of organization.  If you make arrangements to help us, you will essentially be helping us with whatever we are working on at the time of your visit.  We can tell you beforehand what that will be in case you have aversions to height, plaster, small animals, or children and teenagers! 

We have had volunteers drop by for an afternoon, and we have had people stay for over a month.  It really depends on what is going on, our time and yours!
What Will it Cost?
We do not charge visitors or volunteers.  We have been blessed with the gift of people's time and one way for us to acknowledge that is to give our time and knowledge, even if it is simply a site visit or short tour.  Some visits do take hours of our time and takes away from construction but so far we have not found it limiting.  If the requests for visits becomes too time consuming we will probably move to a set day for tours, rather than charging for them.  As always, we will see how things go!
Is There Somewhere I Can Stay?
We have limited accommodations.  Our family of five lives in a small, 600 square foot home right now and there simply is no room in it for another person!  We do have lots of room for tents and there are several motels/hotels in the area.
How Do I Contact You?
You can contact us at chris@darfieldearthship.com or sandra@darfieldearthship.com.