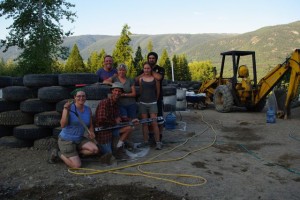 We are receiving more and more requests to visit our site and talk with us about our house.  Like all great sites, we've put together a FAQS page.  Listed below are the most frequently asked questions when people would like to visit.
Can I Visit?
We generally enjoy having visitors.  However, since we moved into the earthship in 2012 our children have asked us to schedule visits more formally. To that end we ask that if you are interested in seeing our earthship to please join our email list (and send us a private email if you wish).  If you are on the email list you will receive notification of upcoming tours.  Whether our gate is up or down, at this time we ask you not to come up without any notice as we will probably turn you away until we have a proper tour.  We realize this may be frustrating but after 3.5 years of opening our construction site to hundreds of visitors our family has come to value our privacy more and more. Friends and family exempt, of course!
We will be all yours during our formal tours! We appreciate your understanding.
Can I Volunteer ?
We have enjoyed our time with volunteers. At this point our jobs are smaller and when we have interesting projects we will post about them. Some may be volunteer opportunities and some may be turned into paid workshops. Keep checking our website and if you are on the email list you will receive notifications of both kinds of opportunities!
How Do I Contact You?
You can contact us at sandra@darfieldearthship.com or chris@darfieldearthship.com.  Even better, email both of us!